School Council at Riverbridge
At Riverbridge we are extremely proud to have our pupils' views represented in Class and School Council meetings.
What is a School Council?
School Council is a group of children, who are elected to represent the views of all pupils and to help improve our school.
What does the School Council do?
In the Autumn Term, each class across the school, elected their Class Councillor to represent their views at School Council meetings.
Through Class Council, all pupils:
Have the opportunity to raise issues, share ideas and take part in discussions that involve all of their classmates in reaching a democratic solution.
Can communicate whole school discussions through fortnightly meetings to discuss issues and concerns that affect the whole school, ensuring pupil voice is heard.
Take responsibility for checking the class suggestion box and noting down the relevant suggestions written and shared by other pupils to talk about at the next school council meeting.
At the meetings, School Councillors get the opportunity to record the minutes of the meeting, which involves discussions amongst the year groups and actions that need to be addressed. This enables our children to assimilate and use problem solving skills to ensure pupils across the school have pupil voice as well as have direct impact on their school life.
Our School Council:
School Council and Anti-Bullying Week
So far this year, the School Council prepared Anti-Bullying week.
On Wednesday 6th November, Year 6 Class Councillors, including Head boy and Head girl, delivered an engaging assembly about Anti-Bullying week, highlighting the theme for this year, 'Change starts with us'. What a wonderful introduction they gave us - communicated with such confidence - well done! Take a look at their Powerpoint below!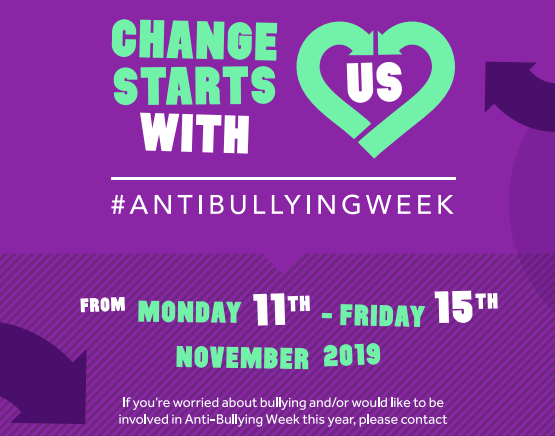 What have we been up to so far in the Spring Term?
This half term, we met and discussed Children's Mental Health Week. Here is what our Head Boy, Dylan had to say after our meeting:
This week, the school council have had a meeting about an upcoming event. As a result of Children's Mental Health Week, we have decided to do a cake sale after school on Thursday 6th February (each cake is 50p). The money raised by the cake sale will be donated to Young Minds, a charity that helps children with mental health issues. Also, since mental health is connected to bravery and our theme for next week is Be Brave Be Yourself, we are doing a Riverbridge Talent Show! This will also be held next in the children's classes and will be judged by the teachers. If you do not wish to participate, you don't have too. Make sure to think of a good idea for your act!
By Dylan F
Children's Mental Health Week Assembly by School Council
Well done to the children who delivered an engaging assembly to Years 3, 4, 5 and 6. With a theme like Being Brave our School Councillors most certainly showed great bravery presenting to the school.
Also, thank you to all those parents and children who took the time to bake/buy cakes and biscuits for our cake sale. It was so successful, that we sold out in approximately 3 minutes of opening, so watch out for our next Cake Sale after half-term!
Well done School Council, you're doing a great job and Riverbridge is proud of the commitment and care you show to our school, thank you!