School Council at Riverbridge
At Riverbridge we are extremely proud to have our pupils' views represented in Class and School Council meetings.
What is a School Council?
School Council is a group of children, who are elected to represent the views of all pupils and to help improve our school.
Our SMART School Council
This September 2021, we have taking on a new whole-school approach to democracy. The Smart School Council model gives us easy to use digital tools to involve every pupil in decision-making, social action and develop key skills for life.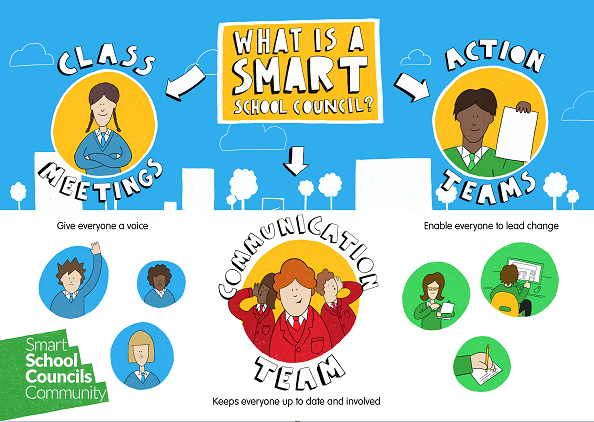 What does the School Council do?
In the Autumn Term, each class across the school, elected their School Council Lead to represent their views at School Council meetings.
At the meetings, School Councillors get the opportunity to lead meetings driven by questions from the Communication Team, our Pupil Leadership. Each class has a secretary to record the minutes of the meeting. Each carefully chosen question, involves discussions followed by a whole-school voting system. Actions that need to be addressed are then decided at the School Council meetings with Mrs Mehmet, and the year group who will action that particular change. This enables our children to assimilate and use problem solving skills to ensure pupils across the school have pupil voice as well as have direct impact on their own school life.
Through Class Meetings all pupils:
Have the opportunity to discuss and vote on issues and questions raised by the Pupil Leadership Team. They share ideas and take part in discussions that is inclusive of all their classmates in reaching a democratic solution.
Can communicate whole school discussions through fortnightly class meetings, ensuring pupil voice is heard.
Are ambitious about putting forward suggestions and decide what actions are required when trying to impact upon change.
Our School Council:
Year Group
Members

Year 1

Pippa A, Isla G, Bernie R

Year 2

Jaxon S, Larson C, Poppy V

Year 3

Georgia L, Coen M, Cara O

Year 4

Frank G, Darko M, Abi N

Year 5

Jacob D, Madeleine W, Kaiyan K

Year 6

Narayani N, Kayana B, Vaishnavi P